This kit is the FULL conversion which changes your AX10&XC-1 into an Ultimate Rock Crawler Machine.

To earn ultimate low gravity, chassis and all other equipments are
lower than tire hight.

Chassis shape refined in narrow form.
Chassis avoids interference with the obstacle.

Comewith S,P Dig unit.Recommended to Hitec HS-5085MG servo.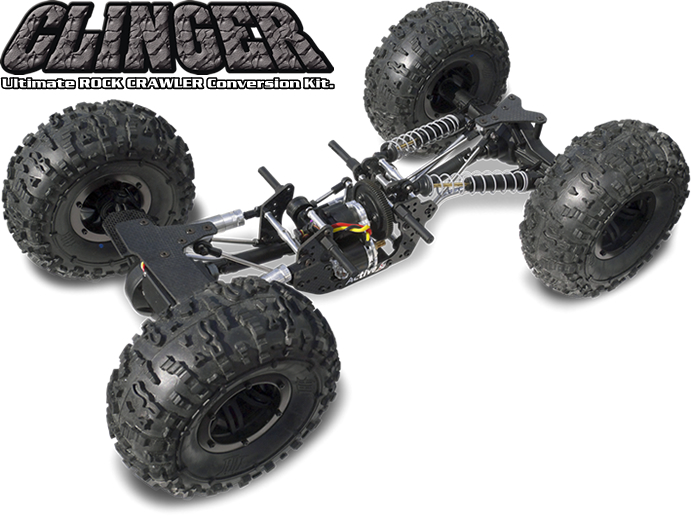 AC301
CLINGER Conpetition Conversion Kit W/DIG unit


Chassis which designed as much possible by the low center of gravity. Even climbing up and down cambers show

distinguished performance.Designed road clearance of one G limitlessly low. Usually such a chassis design, cannot

clear ups and downs. But, a "KATAOKA" links operates and secure road clearance and clear ups and downs.

Main chasis use strong 2.5mm pure carbon plate. Possible to wide setting, effectively arrange of link mount.

*
CLINGER is design for exclusive use of a small outrunner brushless motor.
Following part does not include it.Radio sets(1servo,ESC) and Dig servo, motor, Battery.
can use tire & bodies of AX10(O,P part/we have cool beetle)






AC312
CLINGER Competition DIG unit (Can use for AX10)



Newly-designed crank lever which applied "principle of leverage".

Reduce a burden of Servo, realize the correct, quick operation.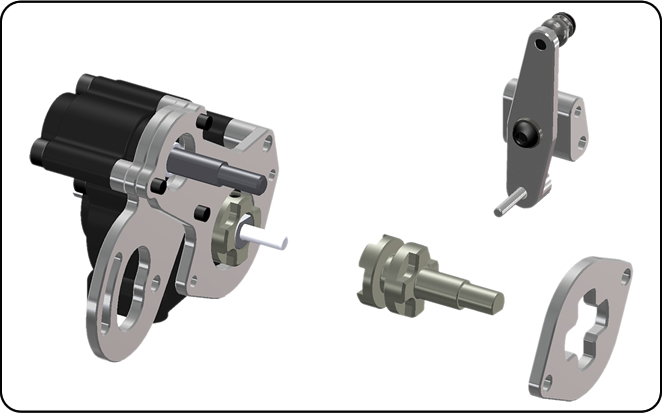 each cross drive cup adopts stainless steel of the Strong material.
Hold down DIG skidding to 1/4 rounds per minute by making it cross shape.
So, machine can hold a phenomenon to slip down in check by DIG operation at the time of the pitch.

| | | |
| --- | --- | --- |
| | * | With out servo and servo mount.(Recommended to Hitec HS-5085MG servo) |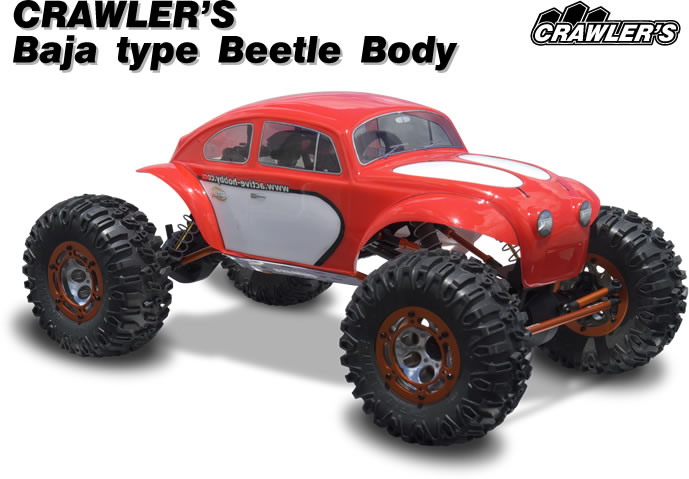 AC303

CRAWLER's Baja type beetle body set.

Body set for 2,2 inches competition specifications machines. Modifed of fender shape for a competition and molded
it in lightweight P,C materials. Attachment to chrome decal, can curved surface.

*The body is not painted.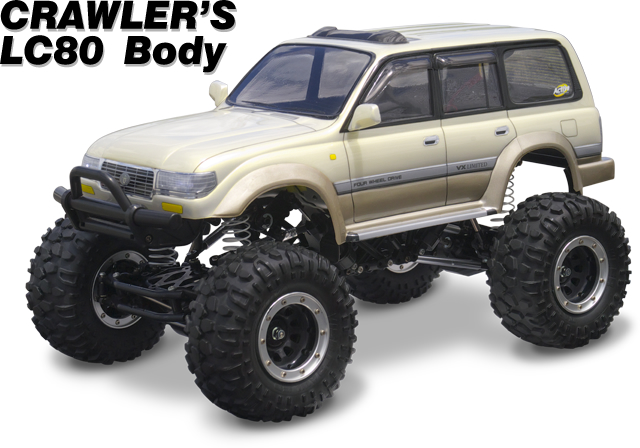 AC302

CRAWLER'-LC80 Body set
This spare body set is corresponding to 1/10 scale crawler's chassis(SCX10 and CR01 etc).
80 bodies known most in the LC series were produced.
Head light cup / Tail lump cup / Mad guard / Side mirror / Side & Sun roof visor.These parts are attached.
The material is Polycarbonate.

* LED is not included.

The body of LC80 is not painted.







| | | |
| --- | --- | --- |
| AC300 | | |

Installation image

CRAWLER's-Rodend(20pcs)

CRAWLER's Rodend has an ultimate variable angle. (Size of the ball is 5.8mm. /For 3mm.)
It is possible to use also for AX10 and there is durability.
It is possible to use it also for the other companies chassis and EP Off-road car that uses the ball of 5.8mm.

If CRAWLER's-Rodend the under is cut, it becomes the same length as rodend for AX10.

The under is cut from the ditch.
CRAWLER's Rodend

Rodend for AX10



AC304
CRAWLER's-Brushless system (Full set)

These are brushless motor & ESC systems corresponding to AXIAL AX10 series and TAMIYA CR01.
These are systems to change it into outrunner brushless motor that has all small sizes, lightness, and a high torque.
Small ESC/With heat sink optimized to cock crawling. With heat sink.
(Optional AC305 CRAWLER's-Brushless ESC Programmer is necessary to modify the program.)
The motor adaptor to install it in standard 540 size motor plate is attached.
Product specification

AC306/Brushless motor 1000KV x1

AC311/motor adaptor x1

AC305/Brushless ESC unit x1



AC305
AC306

CRAWLER's-Brushless ESC unit

CRAWLER's-Brushless motor 1000KV

Can fits to CLINGER.

AC307
AC311

CRAWLER's-Brushless motor 2200KV

CRAWLER's-540Motor Adaptor

Can fits to CLINGER.



| | | |
| --- | --- | --- |
| AC305-1 | | |
CRAWLER's-Brushless ESC Programmer (W/Back light & Checkers of Li-Po battery)

It is a special programmer to change the setting of Crawler's brushless ESC arbitrarily. Because it is a liquid crystal
screen with a high-level backlight, it is possible to use it in a dark place.
With built-in the efficient battery checker that manages Li-Po battery. Each cell displays the voltage of the battery.
(1~4cell)

AC309
AC310

CRAWLER's-Light weight Li-Po battery

CRAWLER's-Light weight Li-Po battery

860mAh 7.4V 22C

860mAh 11.1V 22C

Battery size 29x57x15mm

Battery size 29x57x22mm

Can fits to CLINGER.
The best for rock crawling. Light weight and high-powered Li-Po battery.
It is a battery for the competition that does the highest electrical discharge (22C) in the class of a small battery.
Product specification


T type 2P Connector


JST-XH type Balancer Connector